Valeria Scotti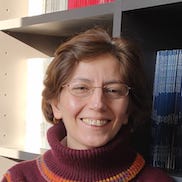 Valeria Scotti (ORCID | Researcher ID | Scopus AuthorID | Loop Profile)
Section Editor for Science Metrics
Center for Scientific Documentation - Fondazione IRCCS Policlinico San Matteo, Pavia (Italy)
After graduating in political science, since 2009 she is employed as a Medical Librarian at the Center for Scientific Documentation of IRCCS Policlinico San Matteo Foundation, one of the most actively involved in the Italian scientific libraries scenario.
Since 2011 she has focused on the concept of "Altmetrics", studying since their first application, usage statistics and bibliometrics indicators as a method to evaluate both subscriptions journals and scientific production.
She has since developed not only a passion but a huge experience, becoming more and more involved in international activities. She has frequently lectures in courses on bibliometric indicators and on the main scientific databases.
She is presently, for the second mandate, Italian representative in the EAHIL Council (European Association for Health Information and Libraries). Within this association she is co-founder and co-chair of the special interest group on Evaluation and Metrics, along with a strong team of like-minded colleagues from all over Europe. She has been a member of the board for GIDIF (Italian association of biomedical documentation specialist) for the term 2016-2019.
She has been appointed Section Editor for Science Metric for AboutOpen and welcomes contributions and points of view offering opinions and facts on the broad and ever- important topic of metrics in science.
To find out more contact us or submit your contribution now.