Guendalina Graffigna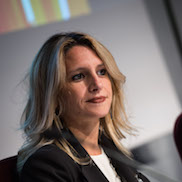 Section Editor for Engagement
Full Professor of Consumer Psychology and Health, Università Cattolica del Sacro Cuore in Milan, Director of EngageMinds HUB – Consumer, Food & Health Engagement Research Center and Director of the Level II Master in Patient Advocacy Management.

After completing her studies in Psychology at UCSC, Milan (Italy) Guendalina started a brilliant career dedicated to consumer and marketing psychology applied to issues related to health, social communication, food behavior and the impact of new technologies (particularly Internet) on consumption and market research. She is also a coordinating member of the Doctoral School in Psychology and a Board member of the University Research Center TROFIC (Transdisciplinary Research In Food Issues Center).
In June 2012 she received the International Leadership in Qualitative Health Research Award and in 2015 she developed, with her research team, a concept model of the evolution process of consumer engagement in the management of healthcare (Patient Health Engagement Model - PHE Model) applied to scientific and clinical contexts not only in Italy but also in several European and non-European countries.
According to Scopus, Guendalina Graffigna is the world's single most prolific author on patient engagement.
Prof. Graffigna is interested in evaluating new contributions. To find out more contact us or submit your contribution now.