AboutOpen | 2022; 9: 87-91

ISSN 2465-2628 | DOI: 10.33393/ao.2022.2468

REVIEW
A roadmap for building your scientific reputation on social media
ABSTRACT
The wide adoption of online media for scholarly purposes triggered a rapid increase in the access to scientific information. This led to several outcomes, including considering internet as the main functional medium for disseminating knowledge. Here we briefly describe how this represented one of the foundations of the open access revolution and how this is connected to the development and circulation of alternative metrics for research outcomes. We then enumerate a list of practical suggestions on how to proceed when dealing with the online dissemination of research products, in order to build and maintain a scientific reputation on internet.
Keywords: Open access, Scientific reputation, Social impact, Social media
Received: July 14, 2022
Accepted: September 8, 2022
Published online: September 20, 2022
AboutOpen - ISSN 2465-2628 - www.aboutscience.eu/aboutopen
© 2022 The Authors. This article is published by AboutScience and licensed under Creative Commons Attribution-NonCommercial 4.0 International (CC BY-NC 4.0). Commercial use is not permitted and is subject to Publisher's permissions. Full information is available at www.aboutscience.eu
Introduction
Open access manifestos
Scholar communications, since the late 1990s, underwent a revolutionary transition from physically delivered printed manuscripts, to readily and globally available electronic media. This followed the widespread diffusion of internet as a communication infrastructure, as scholar writers could be described as those writing for impact rather than commercial purposes (1). Widening the access to scientific writings and making the manuscripts immediately available became a necessity as soon as the exchange of information started occurring exclusively in electronic form.
In the early noughties three distinct documents collected this demand and channeled it into conceptual and practical guidelines. Budapest (2), Bethesda (3) and Berlin (4) declarations were published as "open access manifestos," to define both the philosophical and technical features of guaranteeing the access to knowledge through internet. All the declarations carefully state practical guidelines to "go open," describing among the other things the procedure of self-archiving.
Internet as functional medium
For the purposes of this discussion, it is interesting to observe that in the manifestos there is an official designation of internet as the functional medium for distributing knowledge (see preface of (4)). Moreover, the potential of transforming scientific communications in a common online conversation is also underlined in (2). This aspect of the manifestos is sometimes underrated (see also (5)), even if it is the one that opens new insights and potential developments to scientific communication itself.
In the following sections we will first describe innovative ways to quantitatively depict the impact of a research outcome and then suggest several actions to transform research outcomes into hubs around which online scientific conversations unfold. This would generate new ways of connecting to other researchers, leading to distinctive approaches to build and increase an online scientific reputation.
Traces of impact
Scholar writers always relied on carefully crafted filtering systems to select what to read, as "no one can read everything" (6). In Figure 1 there is shown a potential "flow" of interactions between readers and research outcomes, from left to right, starting with the filtering operations. Filtering could occur either as a plain operation of keyword search, or through both in person and online interactions with other people. Online interactions may happen even without actual conversations, in asynchronous ways, by means of reading someone else's takes on outcomes (blog posts, popular science articles, etc.).
Following the filtering, there is the collecting phase (center of Fig. 1), starting with saving and storing the outcome in personal collections for future use. One could choose to "vertically read" a research outcome to have just an idea of the topic, or go for an accurate examination, which may prove crucial for one's own work.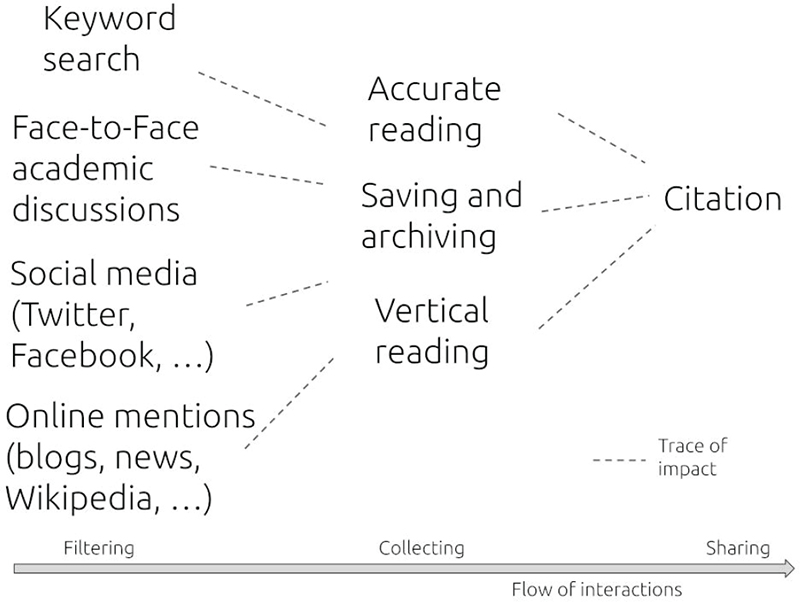 In a "classical" situation, a researcher first filters potentially interesting publications, then reads them and finally mentions only the relevant ones in a new research outcome. Therefore, citations (left of Fig. 1), in this framework, is the only quantitative way to assess the impact of a research effort.
However, as Figure 1 suggests, there actually exists a whole ensemble of interactions at different levels, which represents a trace of the impact (6) that research outcome had on the readers.
Altmetrics (alternative metrics or article level metrics) are an attempt to take into account the complexity of these interactions and reconstruct the full trace of impact by quantitatively keeping track of all the actions on a research product. This includes: saving in online reference managers, citing in popular science journals/blogs/Wikipedia, twitter mentions. With altmetrics there could be assembled a rich collection of online discussions around a research product. As opposed to "classic" citation indexes, altmetrics do it in an immediate way, because there is no delay between a mention in a social media discussion and the increase of the indexes. In addition to this, they can uncover the impact of a product outside the plain academic environments (Wikipedia) and they allow assigning an impact to something that sometimes would be difficult to cite (a dataset, a piece of software with no associated manuscripts, etc.).
This is something that steers for "internet as a functional medium," sharing the "science as a conversation" point of view. Authors with a carefully fine-tuned scientific reputation play a crucial role in this transformation, and they could promote this innovative way of discussing scientific issues by disseminating their work on social media.
Social media for scientists
Conclusions
Open access manifestos described how internet should be considered the functional medium where knowledge is disseminated and discussed. Here we illustrated how this transformed the scientific outcomes from static, isolated objects to hubs of ongoing online scientific discussions. We briefly introduced the altmetrics, suggesting that they are an attempt to transform this generic guideline into a quantitative measure. We finally enumerated a list of actions that readers can take to build a reliable and successful professional profile on social media for their online scientific reputation, supporting how this proved relevant for disseminating scientific products and building innovative ways of conducting research.
Disclosures
Conflict of interest: The author declares no conflict of interest.
Financial support: Vittorio Iacovella was supported by the MIUR project "Dipartimenti di eccellenza."
This research received no specific grant from any funding agency in the public, commercial or not-for-profit sectors.